Dental Implants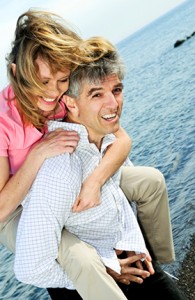 Losing a tooth is a not a problem that anyone wants, and unfortunately is all too common across the globe. In the past there weren't many options as far as tooth replacement and there were not any permanent solutions available. Thankfully, this is no longer the case.
Now, because of modern dental technology there is a permanent tooth replacement solution called dental implants. A dental implant is a metal alloy post that is anchored in the jawbone. This post provides an anchor point for a number of dental devices including:
Dental Crowns – If you are missing a single tooth, a dental implant can be used to provide an anchor point for a dental crown. By completing this form of treatment, you can permanently replace a missing tooth.
Implant Supported Dental Bridges – If you are missing multiple teeth, a couple of dental implants can be used as an anchor point for a permanent, highly functional dental bridge which can provide a long lasting and effective tooth replacement solution.

Implant Supported Dentures – If you are missing most, or even all of your teeth dental implants can be used to help by acting as anchor points for permanent dentures. Implant supported dentures have truly changed the game for those suffering from severe tooth loss, and is a fantastic way to be able to resume eating the food you love, speaking well, and having a higher standard of living.
At Sutter Dental our team can restore dental devices – such as dental crowns and implant supported dentures – to dental implants placed by a specialist. We are thrilled to be able to offer this service to our patients, and love to see the results that dental implants can provide.
Have more questions about how dental implants can benefit you, or questions about our other services? Contact us today!