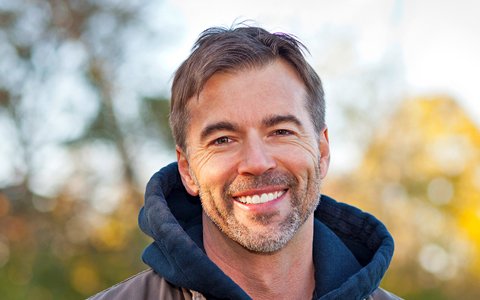 Would you like a more permanent way to fill in a gap in your smile? Thanks to advanced dental technology, your options are now better than ever.
A dental implant consists of a metal alloy post that is placed in the jaw to give stability to a replacement tooth. The dental implant can also encourage bone regrowth, which is a great way to restore bone density after tooth loss.
The titanium post acts as an anchor for several dental devices, including:
Dental Crowns – For a patient who is only missing one tooth, a dental implant can be used to provide an anchor point for a dental crown. A dental implant-supported crown will look and feel like your natural teeth, providing functionality as well as a beautiful smile.
Implant-Supported Dental Bridges – For a patient who is missing several teeth, a couple of dental implants can be used as anchor points for a permanent, highly functional dental bridge. The dental bridge can provide a long-lasting and effective tooth replacement solution.
Implant Supported Dentures – For our patients who are missing most or all of their teeth, dental implants can be used to support permanent dentures. Implant-supported dentures repair severe tooth loss and provide full, beautiful smiles for our patients.

Dentures anchored with implants do not shift or slide, and you won't have to use adhesives or leave them in a soaking solution overnight.
Our Sutter Dental team members are trained to restore dental crowns, dental bridges, and implant-supported dentures. The dental implants are placed by a specialist, and we take care of the rest! We are excited to offer dental implants to our patients to help them have happier, healthier smiles.
If you have any questions about how dental implants can benefit you, call to schedule an appointment today. Our team is ready to show you how dental implants can change your life for the better and give you a dazzling new smile.