Meet Dr. Arabatyan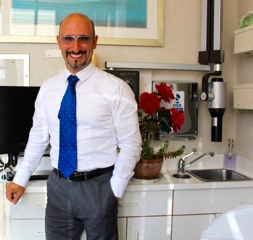 Dr. Arabatyan believes in a strong connection between a patient's oral health and general health. Clinical research shows poor oral health care can affect patients' cardiovasular and immune system; even surprising connections for pregnant patients between gum disease and premature births.
The foundation of Dr Arabatyan's philosophy of patient care is threefold:
Comprehensive oral health care that influences patients' overall health and well-being!
Preventative dental care to avoid dental emergencies, oral infections, facial swelling, and preserve healthy tooth structure and gum tissue!
Cosmetic dental care utilizing the latest technics with porcelain, composite white fillings and digital radiography to recreate patients' natural smite and improve their confidence!
Dr. Gary Arabatyan understands the importance of location. It goes beyond the love he developed for the Bay Area while attending the UC San Francisco School of dentistry, and goes right down to the very building he chose for his office.
"My lab ceramist who works with all my cosmetic cases is in the building," he points out. "It is very important to be in close communication with the lab tech to control the cosmetic cases from start to finish."
This level of detail is not unusual for Dr. Arabatyan.
"I call my patients 'walking art' because I view my patient's smile as my canvas and cosmetic porcelains as the medium to create a beautiful and confident smile."
This same care goes into creating the prefect atmosphere for his patients.
"I renovated the whole office from ground up. The new features include a salt water fish tank, a relaxing water fountain, and a Sony flat screen TV for watching DVDs during the treatment. "The office is designed to calm the patients and make them feel that they are in a very modern, very caring facility."
New Technology recently implemented in the office:
We now use intra-oral digital cameras, digital X-rays, and digital panoramic x-rays. The digital upgrades reduce x-ray exposure to patients as compared to traditional methods."
Dr. Arabatyan does veneers, implants, white fillings (we do not use mercury fillings and metal crowns), root canal therapy, and Zoom whitening treatment, all in the service of improving the smiles of his patients.
"The real satisfaction is the appreciation and happiness that patients feel after we restore their teeth and smile. I make sure that patients are very comfortable during the procedures and they are pleasantly surprised that dentistry is not as uncomfortable as it used to be."
Dr. Arabatyan is also an Olympian, and as a member of the Olympic Club he enjoins swimming, yoga, and the Olympic spirit. He is a father of three beautiful children and has made San Francisco his permanent city of residence.
Education:
Undergraduate: UC Los Angeles – BS Biochemistry, 1998
Dental School: UC San Francisco – DDS, 2003
Associations:
California Dental Association
American Dental Association
American Academy of Cosmetic Dentistry
Spear Study Club
Bay Area Aesthetic Masters