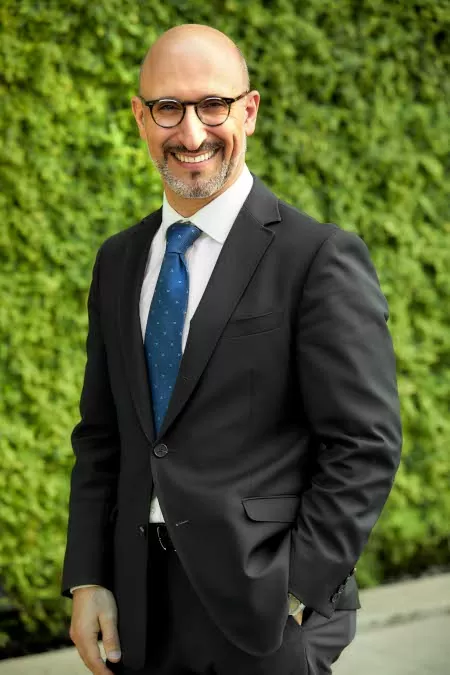 Dr. Arabatyan believes in a strong connection between a patient's oral health and general health. Good oral health care benefits your overall health including cardiovascular, immune, and digestive systems. In addition, it has long-lasting positive influences on personal and social relationships.
Dr. Arabatyan's philosophy of cosmetic dentistry and oral health care for personal well-being:
Understanding oral health care and approaching it holistically brings balance to a patient's well-being
Treatments and procedures to improve oral health is directly connected to the well-being of the rest of your body
Dr. Arabatyan strongly believes in working with patients to maintain healthy oral health care, at home and when visiting his practice
A focus of Dr. Arabatyan's practice is compassionate coaching to minimize anxiety and ensure a comfortable visit
There is a strong connection between form, function, and aesthetics of smiles that cannot be ignored in present day society. As a cosmetic dentist and artist, Dr. Arabatyan fully understands and delivers natural cosmetic smiles and facilitates emergence of confident personalities of even his shyest patients. It humbles Dr. Arabatyan to witness real transformation as patients overcome their fear of dental-phobia, and blossom with their new smiles.
"The real satisfaction is the appreciation and happiness that patients feel after we restore their teeth and smile. I make sure that patients are very comfortable during the procedures and they are pleasantly surprised that dentistry is not as uncomfortable as it used to be."
Oral health is also so intimately involved with breathing and sleep disorders that most patients are unaware. As an oral health care physician and coach, Dr. Arabatyan helps his patients understand complex disease processes to improve not only the quality of sleep, but also overall health care.
After graduating from U.C. San Francisco School of Dentistry in 2003, Dr. Arabatyan decided to call the Bay Area his permanent home and nestled his office in the historic 450 Sutter Building located in the heart of Union Square.
Dr. Arabatyan specializes in cosmetic veneers, implants, composite white fillings, root canal therapy, Oral DNA, Perioprotect Trays, HealthyStart, and Zoom whitening treatment – all in the service of improving patients' oral health care and well-being.
Dr. Arabatyan is a member of the Olympic Club and enjoys open water swimming, hiking, and yoga. He is married and the father of four beautiful children.
Education:
Undergraduate: University of California Los Angeles – BS Biochemistry, 1998
Dental School: University of California San Francisco – DDS, 2003
Continuing Education:

SPEAR Education (2009 – present)
Bay Area Aesthetic Masters since (2005 – present)
Kois Center
Crown Council
Christian Coachman Digital Smile Design
Dawson Academy; Dr. DeWitt Wilkerson
Hornbrook Group
IDEA Continuing Education
Newton Fahl and Claude Pino Cosmetic Layering
Perio Protect Seminar C.E.
Associations & Provider Groups:
American Academy of Cosmetic Dentistry
California Dental Association
American Dental Association
Crown Council
Spear Study Club
Bay Area Aesthetic Masters
Olympic Club
Perio Protect
OralDNA
HealthyStart