Dentures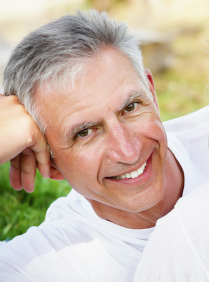 Losing most, or even all of your teeth is a dental tragedy that permanently changes your ability to speak, eat, and smile like you did before. If you have suffered from the loss of many of your teeth, we understand your situation and are proud to offer great dental options to help you get your smile back.
One of the very best dental treatments available for patients who have suffered from tooth loss are dentures. Dentures are a proven dental technology that helps patients eat, speak, and smile normally once again.
At Sutter Dental we offer a couple of different denture options to our patients, including:
Traditional dentures – Traditional dentures remain a highly popular option for many patients and uses tried and true dental technology that has served people around the globe. Our dentures are custom-crafted for each patient, using high quality materials and top quality dental technologies to help ensure accurate fit, excellent appearance, and outstanding functionality.

Implant supported dentures – Implant supported dentures are a brand new twist on denture technology – they are designed to be permanent! Using dental implants – which are titanium alloy posts anchored into the jaw for support – implant supported dentures allow replacement of a mouth of missing teeth, and the restoration of a beautiful smile, permanently. This form of dentures also doesn't have issues such as clicking, slipping, or coming out like many traditional denture applications.
Whatever your choice of denture type, our team is ready to help you get your smile back effectively and safely. Dr. Arabatyan and his team are skilled and experienced in this form of treatment, and will do their very best to explain your treatment options so that you can make the informed decision that is best for you.
Have more questions for us about dentures? Contact our team at Sutter Dental today!