Introducing the Perio Tray® by Perio Protect
Control Gum Disease in the Comfort of Your Home

We are proud to present our patients with the latest innovation in gum disease treatment: The Perio Tray®. The Tray is a noninvasive and convenient way to keep your gums healthy. Now you and your family members can protect yourself from tooth loss, halitosis, and jawbone dysfunction in your own home.
What is Gum Disease?
Gum disease, or periodontal disease, is a buildup of plaque in the mouth. This toxic bacteria causes a reaction in the gums, teeth, and surrounding structures. Gum disease can quickly escalate to:
Chronic bad breath
Tooth sensitivity
Loose teeth
Tooth loss
Change in bite
Jawbone deterioration
Jawbone pain
Facial collapse
Gum disease is also linked to heart disease, diabetes, and other serious whole body health issues. It is pivotal to receive regular gum disease checkups and treatments from your experienced professional.
How Does the Perio Tray® Work?
Dental cleanings can treat the bacteria that causes gum disease, but when you return home, the buildup may begin again. Bacteria cells can grow back within hours after brushing your teeth or receiving a professional cleaning.
The Perio Tray® by Perio Protect gently applies medication deep under the gums, where basic brushing and flossing can't reach. You will fill the thin plastic Tray with the mixture of gum medication that your dentist sees fit.
If you wear your Perio Tray® for just minutes each day, you can avoid the dangers of periodontal disease. Our patients are pleased by the comfort and flexibility of the Tray, which will be custom-fit precisely for your mouth.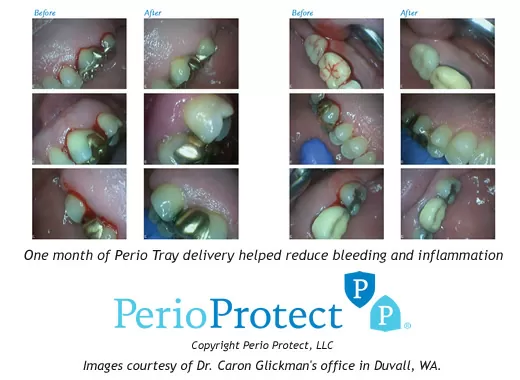 Advantages of The Perio Tray®
We hope you will enjoy all of the benefits that the Tray has to offer, including:
Constant protection from infections and tooth loss
Reduced risk of high blood pressure, heart disease, and other bodily disorders
Fresher breath
Teeth that are cleaner and even whiter
Fewer follow-up visits to your dentist
Easy to use and clean
Portable
Cost efficient
When is the last time you received a gum assessment? To learn more about how you can safeguard your oral health with Perio Protect, please contact our office today!